The Shopify App Store has a wide selection of Shopify SEO apps, to improve the search engine optimisation for your store. This makes you more likely to gain customers, improve your website traffic and potentially make more sales.
Here are five of the best that will help you get more visitors and better conversions.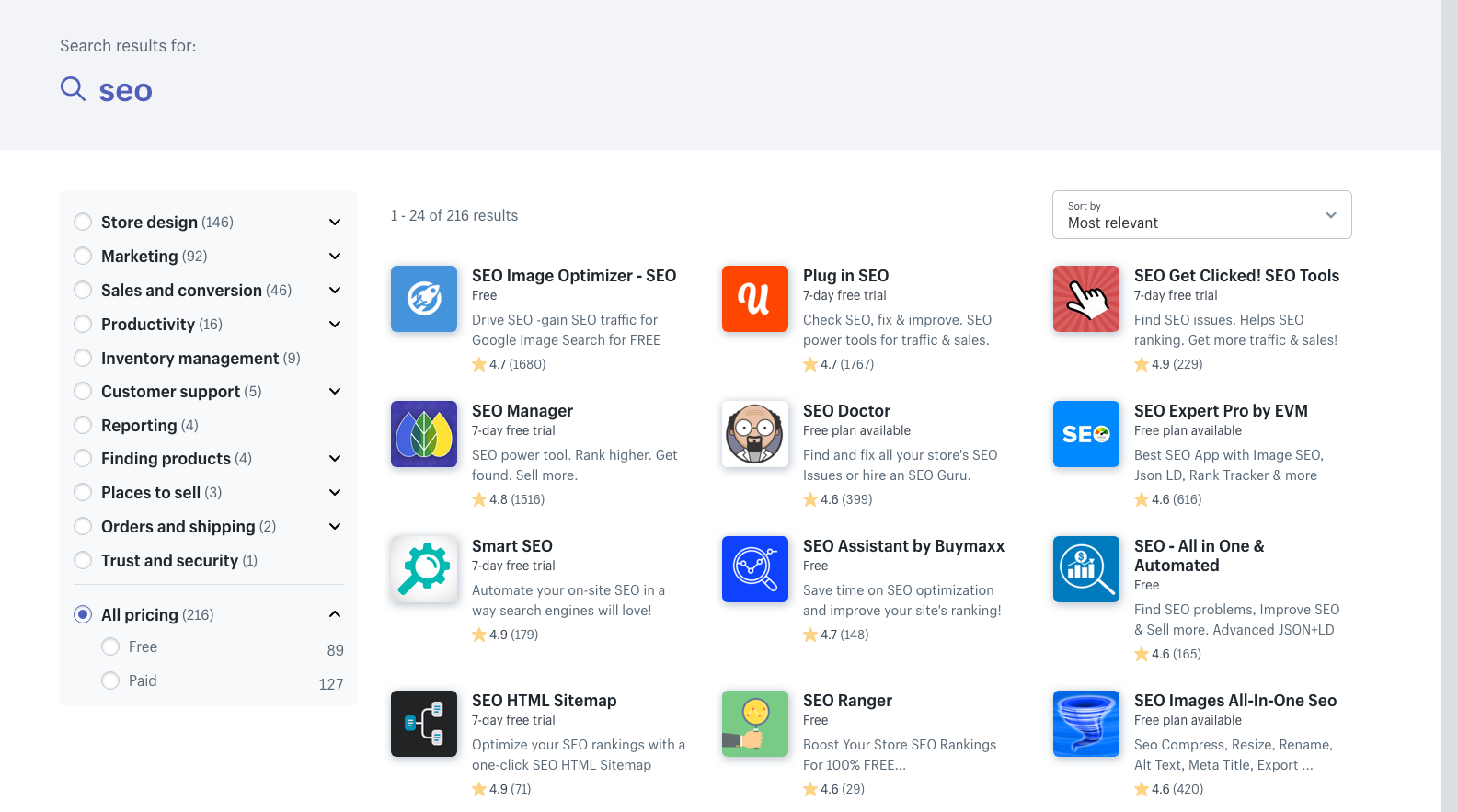 Rating: 4.8 / 5 Stars
This is one of the best all-in-one Shopify SEO apps that you will find on the Shopify App Store. It's a perfect pick for those who are just starting out because the app gives you access to a comprehensive database of help documents. It also features a great guide that will help you get to know all the features.
The app has over 20 features, most of which focus on scanning your store and finding any issues that require attention, such as 404 errors, indexing issues, or image ALT text issues.
You can test it during a seven-day free trial and have it for $20/month afterward.
Rating: 5.0 / 5 Stars
Sputnik is the best SEO app for Shopify stores in need of that initial SEO setup. The app automates the SEO process for your pages and collections with their main functionality: the "target keyword" feature.
As you type in the keyword you want to rank for with your product page in the "target keyword" box, you will get Google keyword suggestions and the search volume of each.
Choose the keyword most relevant to the product page, and Sputnik will optimise the whole page – page name, description, SEO title, and SEO description – to the keyword you chose.
This Shopify SEO app has four pricing plans, depending on the number of products or pages you wish to optimise with it, but you can also have a free plan for up to 15 products, collections, pages, or posts.
The paid options include:
The starter plan for $9.99/month and 100 products
The Basic plan for $19.99/month and 5,000 products
The Pro plan for $29.99 a month and an unlimited number of products.
Rating: 4.9 / 5 stars
Sitemapper is a Shopify SEO app that automatically generates a HTML sitemap for customers. It updates every 60 minutes to include new products, pages, or collection, and it also generates a XML sitemap that you can submit to search engines so they can index your pages faster.
The HTML sitemap page gives your visitors an overview of all your pages, products, and collections on a single page. This will help them find products faster and improve conversion rates.
There's a seven-day trial available, and it's one of the most affordable paid Shopify SEO apps at just $2.50 per month.
Rating: 5.0 / 5 Stars
This Shopify SEO app helps you get your products and pages in the form of rich snippets in Google's search result listings.
Why should you care about rich snippets? Well, instead of just listing your product with a link and description, Google will also show your product image and can even include things like rating, reviews, availability, price, stock, and more.
Rich snippets are possible if you include structured data in JSON-LD format into the product page HTML, and this is exactly what this app does. After you install it, the app can easily generate and add the required structured data to each of your product pages.
The app is available for a one-time charge of $69, and it's well worth the investment.
Rating: 4.9 / 5 Stars
'The SEO Get Clicked! SEO Tools' is an excellent SEO app for Shopify stores that want to eliminate the most common SEO-related issues.
This tool helps fix any SEO errors, tests the website speed and optimisation for mobile, and helps edit meta descriptions, SEO page titles, and image ALT text. With this tool, merchants can create structured data needed for rich snippets too.
The main selling point is actually the numerous tutorials and guides – an integral part of the app – catering to beginners and advanced users, as well as the 24/7 customer service that is highly praised in reviews.
The app is available for $9.99 per month and offers a seven-day trial to test it out.
SEO for your Shopify store shouldn't be ignored! It can make a huge difference when driving traffic and converting sales. Have you tried any of these apps? Which is your favourite?