In this quick Shopify DNS guide we'll quickly cover DNS settings for your domain when you have a Shopify store and Shopify email hosting somewhere else.
In this example we're going to manage the DNS for a domain we own. We are going to create the following domain/DNS records:
Shopify DNS settings
To point your domain to Shopify you need to add 2 DNS records. If they already exist you need to edit these records.
1 – add a www CNAME record which points to shops.myshopify.com
2 – add @ A record: 23.227.38.32
Shopify MX settings
The Shopify email host we'll use is Shopped.email and they require the following DNS records so we can send and receive mail properly.
3 – MX record: mx.yourstorename.com.cust.hostedemail.com
4 – mail CNAME: mail.yourstorename.com.cust.hostedemail.com
Obviously you need to change yourstore name to your own domain. If you are using a different email host other than Shopped Email then your settings will be different.
And that's it – those are the 4 DNS records you need to connect your Shopify store and Shopify email host to your domain.
Example DNS record for a Shopify domain with email hosting on Shopped Email
Here we have an example for a domain we own: shoeguru.ca. The domain records would be added as follows: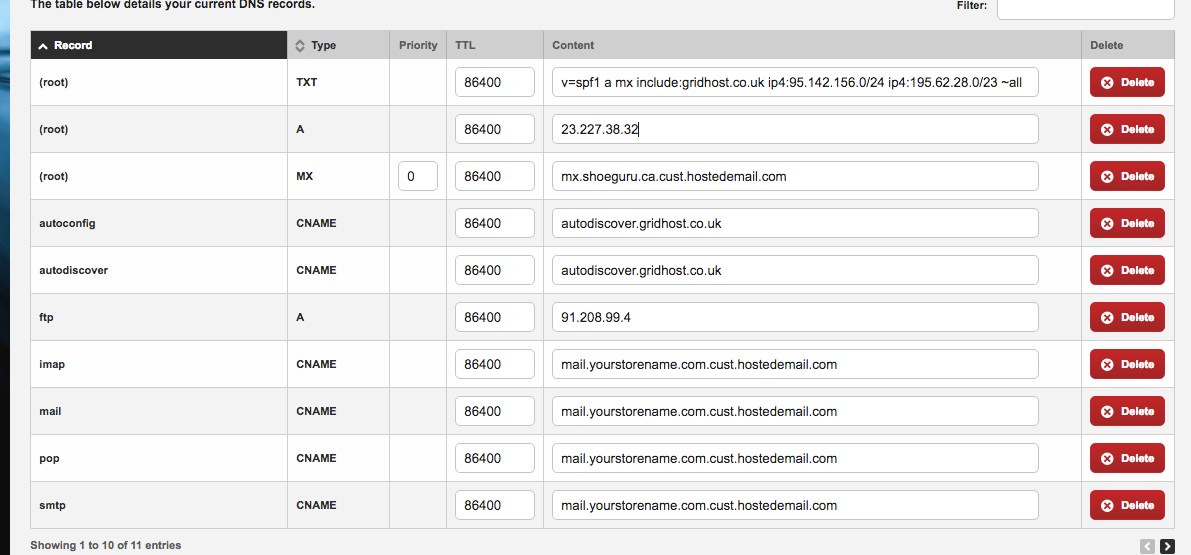 And it really is that simple to have your domain hosting split to Shopify and an email host. Note that regardless of your store name the top 2 records (A record and www cname will always be the same). The mail DNS records will depend on which Shopify email host you have selected. There is currently only one dedicated Shopify email host and that is Shopped Email.
For a more complete guide to Shopify email hosting read our article or visit Shopped Email – Shopify business email hosting. You can also find our Shopify DNS configuration example on GIST.