Today we're going to look at some of the big players in the multichannel ecommerce niche. Specifically we're going to be looking at SAAS products that integrate with Shopify to allow you to sell on more platforms – with less hassle.
Selling on multiple channels is one of the main ways we have helped clients to scale their ecommerce ventures. Some have gone on to increase sales by over 130% by just integrating with Amazon alone. If you're reading this you are probably looking for an SAAS solution to help you distribute your products to more customers via more channels. if so, read on.
Shopify as multi-channel Solution
Shopify out of the box allows you to sell on certain channels. Pushing products from your store to marketplaces like Amazon, Ebay and Etsy should – should in theory be super simple with Shopify Channels. That's their goal. But currently channels are a bit of a development flop on Shopify. They're working on improving it in the background but anyone who has actually tried to sell on Shopify, Amazon, Ebay etc whilst maintaining their data on Shopify will have had a number of headaches and many people find they can't directly sell on the channels they want. For example in some countries – the integrations don't work. Sometimes the apps don't function at all. As of writing the Shopify Amazon Channel app has a review score of 2 which isn't reassuring, the Facebook channel has a whopping 3 and the Instagram channel a staggering 1.8 (Instagram is a difficult platform to develop for though – as they are always changing everything). So these native channel integrations on Shopify simply don't perform. They may in the future. But they don't right now. This is where a 3rd party tool comes in – to hook together the product and inventory data between platforms.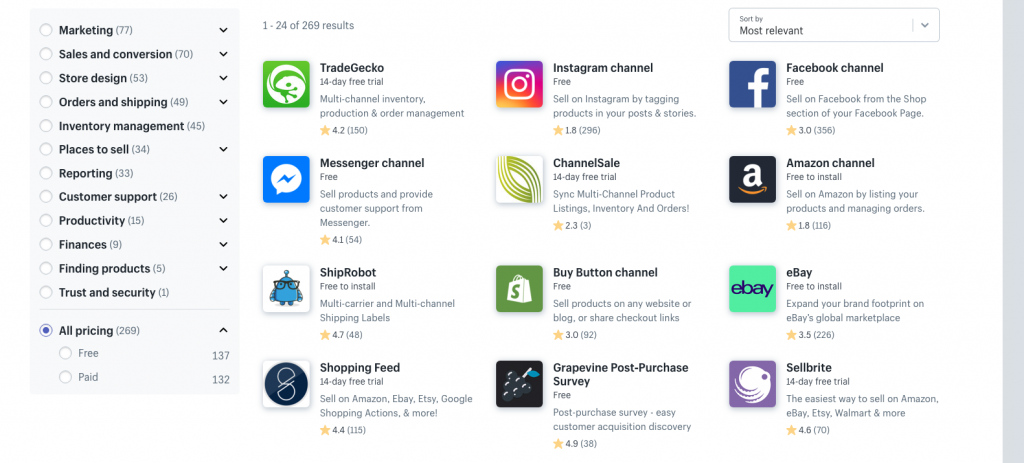 So whilst Shopify is currently the best ecommerce platform in the world (in our opinion) – you will probably need a 3rd party tool to sell effectively on multi-channels (aside from the POS app which works quite well for physical stores). Whilst you can get a Shopify developer to build something bespoke – it makes sense to use an existing tool for this since integrations, API's and platform requirements will constantly change.
So let's take a look at 3 options for selling on multiple channels with a Shopify store. 3 options that will allow you to scale and sell more on 3rd party platforms.
Expandly
Expandly offer multichannel ecommerce software which directly integrates into Shopify using an app which is in the official Shopify app store.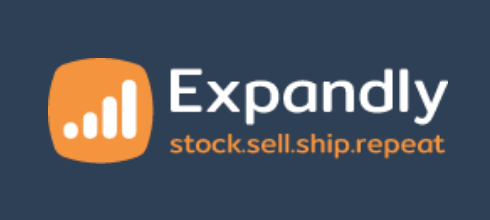 This app will allow you to integrate your Shopify store with eBay, Amazon, Etsy & Wish. You can create, duplicate, and schedule listings across all channels as well as synchronize stock in real time so no more overselling. In addition Expandly also allows sending sales orders to Xero. So you can push data into Xero from all sales channels and take control of your accounts.
The app will also integrate with many shipping carriers including Royal Mail, USPS, DPD, DHL etc – check out a full list here.
Merchant tip: Expandly has a function which allows you to schedule eBay listings for free so if you're selling on eBay with scheduled listings – you may well save money in using Expandly (you will usually pay £0.10 / $0.10 per product even if it doesn't sell).
Expandly has different price plans starting from $55/month which is an excellent deal if you're looking to start selling on multiple channels. Most merchants would quickly make back the fee.
Channeladvisor
Channeladvisor is one of the longstanding giants of multichannel ecommerce software. It will integrate with over 100 marketplaces and is geared more towards the enterprise level merchants with additional marketing and distribution options.

For many smaller to mid-level merchants ChannelAdvisor would be overkill. For many: a robust Amazon and Ebay integration is enough but if you need more – Channel Advisor is one definite product to check out. We have a client who manages over 30 Shopify stores using this platform and it's robust and reliable.
One feature we especially like about Channeladvisor was the ability to spin out custom feeds from the merchant data.
Channeladvisor do not have a Shopify app but will integrate for you on a store by store basis for a fee of $1-3k. You can tell by the fees that this platform is only for the bigger players. each channel comes with a fee, each transaction comes with a fee and then there's the monthly fee. All in all you'll be looking at several thousand for the setup with a monthly fee of at least $2k. If you need it and can afford it then great – but that would be too much for many merchants. Both in terms of costs and functionality.
Brightpearl
Brightpearl is another service geared at the higher volume merchants. They will integrate also with Shopify but do not have a commercial app in the Shopify app store – it will be integrated as part of the onboarding process.

Brightpearl is like Channeladvisor's smarter, younger sister. It's a powerful piece of multichannel ecommerce software which can help you sell on all major channels whilst keeping inventory and finances uptodate in real time.
If you're looking for something that's more intuitive and easier to use than Channeladvisor – with a lower price tag then Brightpearl may be for you. If you're at the enterprise/Shopify Plus level then it would be worthwhile scheduling a demo with Brightpearl also to see what they have to offer.
Conclusion
If you're a smaller to mid sized business starting to scale outside your online store looking for multichannel ecommerce software you'll want to probably give Expandly a spin. Install the app and follow the onboarding steps. The small monthly fee will soon enough be paid for by your uptick in sales. If you're a growing medium to large sized company who requires integrations into lots of channels then you'll want to get a trial for both Channeladvisor and Brightpearl – both are suitable in different ways. Channeladvisor is older and more stable but more expensive and probably slower to adapt to newer marketplaces where as Brightpearl is more modern and agile.
If you need help scaling your Shopify store or integrating with any additional channels or selecting multichannel ecommerce software – talk to us. We're official Shopify experts and very experienced with both Shopify and Shopify Plus. Our Shopify developers typically build custom Shopify themes and apps for Shopify Plus merchants.